I awoke in a funk. My knee was throbbing. My family wasn't reading my mind and acting accordingly. The sweet of fellowship had somehow fled since the precious hours the night before and left behind only the bitter of farewell. I began the list of negatives in my head and was well on my way to ensuring a horrific Sunday morning for my loved ones. And then the still small voice.
Give thanks?
Oh.
But really? This morning? I seem to be wallowing quite nicely here…
Especially this morning, yes.
I tried to began to say thank You.
From my rut, I could not see the gifts clearly, so I had to begin with what was literally in front of me. Toothbrush… toothpaste… clean water flowing easily from my faucet… a cozy house in the cool of a spring morning… a husband awake… Davey, with his young man intensity… Barak, passionate and dreaming… Elanor, on the cusp of young womanhood… Josiah, tenderhearted and loving-handed… Kate, with her laughter… Grace, face shining in smiles… Stephen, embracing big brotherhood… Andrew, unexpected and treasured
Oh, there are so many more, and as the day goes on, they continue to come to mind…
Friends preparing an evening for us to enjoy fellowship before departing
More friends arriving to fellowship


A dear lady, part of our lives since shortly after we moved to Missouri… friend/doula/counsellor/encourager/more
Big families that love us
Couples that love us
Friends who couldn't come but who send sweet words of encouragement
A quiet corner to sit and nurse… and listen to the sounds of people I love
Sue, faithful friend, confidante, fellow-traveller
Tina, inspiring, honest, uplifting
Georgia, overcoming
Mama Fay, precious lady of God
Janet, laughing, tenderhearted
Children playing, making memories
Our men, talking, playing golf (in the living room!)
Dad and Mom Smith, encouraging and helping
Papa and Mama, cheering and praying (my Aaron and Hur)
Flowers showing up more each day
Green overtaking the ground
A picnic, walk, and play at Shaw Nature Reserve


A weeping willow on the way to chapel, looking like a fountain of green misty spray
Mud
Pilates
Gifts #340-375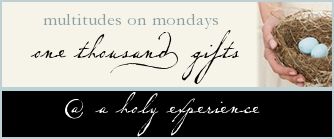 Does anyone know who's handing out the "bad blogger" awards this month?
If only you could read all the posts I've written in my head.
My main excuse is a pretty solid one – we're moving in two weeks, back home to the Hutchinson area! I'm hoping to manage a catch-up/catch-all post sometime this week. We shall see.
In the meantime, my thanks overflow…
Gifts #302-339
Step by step direction
Faith challenges
Spring rain – cold, uncomfortable, but so beneficial
The inspiring determination of a friend to lose those pounds and get healthy
Shared tools for getting healthier
Three days in a row of Pilates (twice, now!)
Friends who care for us
Encouragement as we follow Him
Packed boxes
Bare walls
More and more to do
A husband and blessings who do so much of the work
Freedom to put school on "pause"
Green shoots of spring flowers and garlic


A contract on the Byrds' Nest (hard thanks, this)
Laundry to do
A repaired-by-my-man dryer door
But God
Blue for the sky – from horizon to horizon
The color green (to fill these fields with praise)


Sunset over the Flint Hills
Tire replaced *before* blow out
Tire in stock
Full van and trailer
Road trip with my man
Happy baby in the next seat
A fun weekend for the other Blessings
Willing muscles – practical love!
Empty van and trailer
New house with pieces of us inside
Planning what goes where
Closets. Lots of closets. With lots of shelves.
A mud room
Sweet neighbors we will be leaving
Sweet neighbor we will be gaining
More boxes filling


A last hurrah for winter
Lovely white snow melting to show gorgeous green grass
Reminders to BE, not just do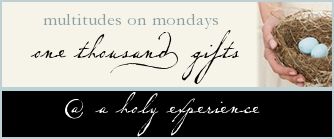 a day late…